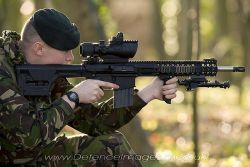 Law Enforcement International Ltd
Welcome
Welcome to LEI and the official website for the L129A1. This website will give you an insight into the L129A1 Sharpshooter rifle. You can find out about the history of its development and technical specifications as well as how to contact us. We hope you will find all the information you are looking for on the L129A1 Sharpshooter Rifle.
L129A1 Sharpshooter Rifle
"The new Sharpshooter rifle will improve the long-range firepower available on the front line.
It fires a 7.62mm round and will enhance accuracy of engagement during longer-range firefights. This weapon will be used by some of the best shots in the Infantry."
Video : Crown Copyright
History
The rifle was designed and manufactured by Lewis Machine & Tool Co (LMT), based on a requirement and specification provided by Law Enforcement International (LEI), who saw the need to fulfil the role of an accurate long range semi-automatic 7.62mm rifle. The design requirement was for an effective and reliable assault rifle, but with superior accuracy to fulfil the DMR (Designated Marksman Rifle) role.
Both LEI and LMT saw the need to provide a purpose built engineering solution. LMT's proven 5.56mm CQB/MRP design platform was ideal for this, and was re-designed in the larger calibre. A match grade "cut rifled" barrel, manufactured from stainless steel, was selected for the application. The design allows the barrel to be readily changed for one of a different length, quickly changing the role of the rifle from sniping to close protection or CQB . The L129A1 rifle also features LMT's two-stage precision trigger, for improved performance.